Chasworld
New! Prints for Sale!
Om, the sound of the universe. These archival prints are beautifully printed on White Somerset in two sizes,
11x 14 or 16 x 20, matted in a white, and framed in White Maple or Black Radius Metal. Hand delivered prints get glass, and shipped prints get standard framing acrylic. Free Shipping on these items! Click on the prints to order!
Chasworld is a gallery, a working online studio, and a journal of my life as an artist. A shout out to my friends in France, Germany, Great Britain, Canada, Ukraine, Japan, and Spain! Keep in mind that I give huge discounts for on site work in Europe, South America, India, and China-well, let's say anywhere in the world really. I love to travel.
Artworks, the Galleria of Fine Art, now represents me in Indiana. Check out the web site at www.Artworksthegalleria.com. Pictured below is my show of about 35 paintings in the fall of 2013. Many thanks for the fantastic support of Santa Brink(CEO), Gallery director Teri Marquart, Pamela Jaeger, and my studio assistants Ryan Schroeder and Cassidy Lubberts.

Chas Davis at Artworks Galleria
This Saturday, April 12, 2014, I will be giving a workshop at Artworks Galleria(in Indiana) sharing the best of my tools, resources, and ideas that over the years have helped me to make a life as an artist . . .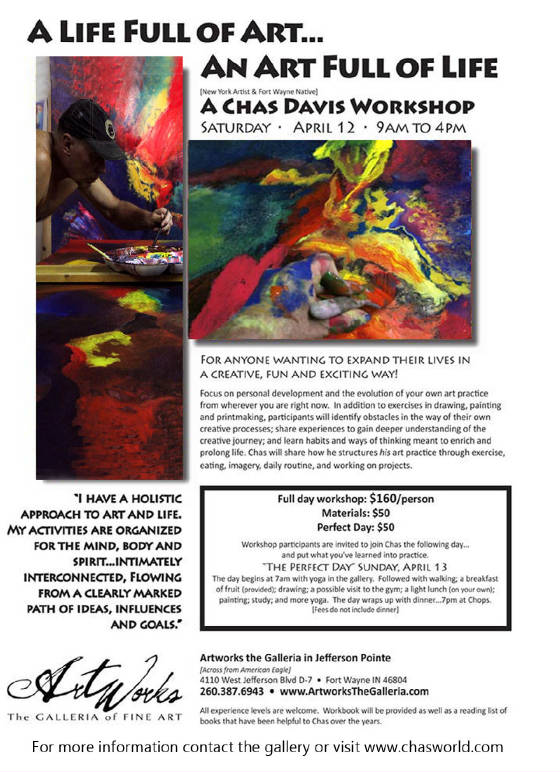 Mar.15, 2013
After finishing the 5 month yoga training I was asked to come up with some sort of art gift for our wonderful teachers, Aimee Bohn and Randi Lattimore. I painted the symbol Om, the sound of all creation, on four sheets of Arches 88, and set paints and brushes out for the eleven students in our class to come paint and dabble on. Then I set about trying to bring the images together artistically, while keeping the character of everyone's contribution. These are four Oms, Gangnam style.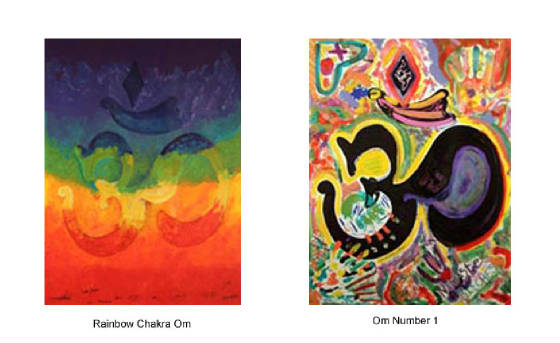 The Om paintings are now available as prints! By clicking on the images you will be directed to my store through the magic of technology, where you can order them.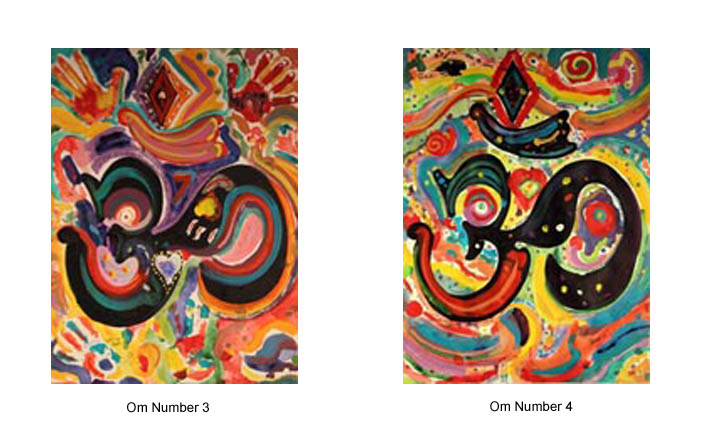 Colored Pencils
It all started with the box of colored pencils I bought at a sale a few weeks ago. All of the colored pencil drawings are available as signed prints for only $14.72 USD(major credit cards accepted). Printed on a heavy duty brilliant white paper(8.5 in. x 11 in.), and includes shipping anywhere in the continental US. Museum quality prints are available for a bit more, price on request. Request ordering information on the Contacts page, refer to the date of the drawing that you want.




Canal Days, Fairport, New York
June 2-3, 2012


As the painting progressed I began to invite some of the children in the audience to help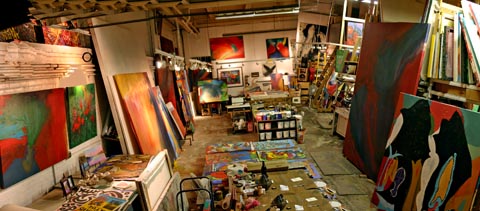 Tom Galvin and I opened Galvin/Davis Studio in 2001 in the parking garage of the Valley Building
Galvin/ Davis Studio
The next Studio Open House is on Friday, June 7, 2013. Galvin Davis Studio is a First Friday venue, a Rochester event in which participating galleries and studios open their doors on the first Friday of each month. Galvin Davis Studio is generally open every First Friday from 6pm to 9 pm. To learn more go to
www.firstfridayrochester.org
.
Looking for directions to the studio? Click here for a map!
New on the Process page-the mural at Artisan Works, 565 Blossom Road, Rochester, New York. Click on the pictures above for the link, and the story.

Process 3.21.10
An ongoing exploration of synaesthetic experience and OK Go Music and Videos

From Beginning to End, on the Process page beginning 3.21.10, is the last painting of the Casablanca Trilogy. The first painting was Casablanca (above left), from 1996, followed by From the Cradle to the Grave(above center), in 2007. The progress of the final painting(just begun Mar. 23, above right) can be seen through April. To go to Process, click on the image above.